Outlook Configuration
How do I setup my email account in Microsoft Outlook?
This lesson will teach you how to configure your email with Outlook.
Step 1: Open Outlook
Step 2: Add New Account
Step 3: Input Account Information
Under Your Name enter your full name.
Under Email Address, enter your full email address
Type in the password for your email address
Step 4: Click Next
Step 5: Manually Configure Settings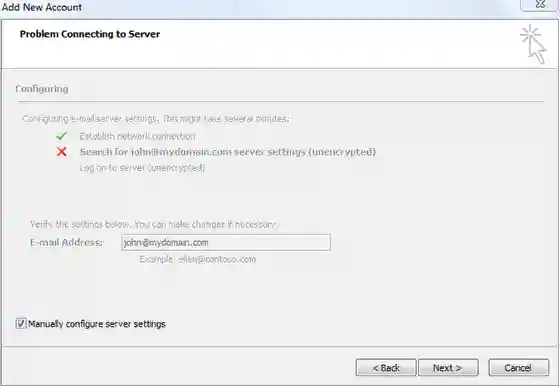 Step 6: Select Internet Email and Click Next
Step 7: Input Server Settings
Input the server settings on the next page. Here you have to put following server details :
Incoming Mail Server: chi-bnode1.websitehostserver.net
Outgoing Mail Server: chi-bnode1.websitehostserver.net
Step 8: Click More Settings
Step 9: Configure Outgoing Mail Settings
In the outgoing server tab, ensure you have selected "My outgoing server (SMTP) requires authentication". Login using your email address and password.
Step 10: Configure Mail Ports
You're Done!
Your email should now be setup and working for you! Please contact support if you are unable to send or receive email.

Notes:
IMAP email access coordinates between the server and your mail application. Messages that have been read/deleted/replied to will show up as such, both on the server and in the mail application.
POP3 does not coordinate with the server. Messages marked as read/deleted/replied to in the mail application will not show up as such on the server. This means that future mail downloads with POP3 will show all messages as unread.
Outgoing mail is sent using SMTP.
We recommend using POP3 over SSL/TLS or IMAP over SSL/TLS since they provide increased security for your interactions with the remote mail server.